Listen to excerpts from other performances of our programme for this concert:






Concert: Popular Classics
Saturday 23rd October 2021, 7.30pm
Norfolk Showground Arena NOTE CHANGE OF VENUE (Map to get to Showground)
Tickets for this concert will be £11 (£5 for under 26's) unreserved seats only.
JOHANN STRAUS: Overture from Die Fledermaus
MASCAGNI: Intermezzo from Cavelleria Rusticana
DVOŘÁK: Slavonic Dances Op 46 Nos 4 and 8
MUSSORGSKY: Night on a Bare Mountain
GRIEG: Peer Gynt Suite No.1
SIBELIUS: Valse Triste
HOLST Jupiter from The Planets
TCHAIKOVSKY: 1812 Overture
Norwich Philharmonic Orchestra
conducted by Matthew Andrews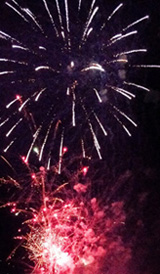 Something to blow away the COVID lockdown blues.
Our programme starts with the Overture to the comic opera Die Fledermaus. The music is full of intimations of the farce and frivolity in the opera to come. It is followed by the serene instrumental Intermezzo from another opera Cavelleria Rusticana, and then we are whisked off to Bohemia for two of Dvořák's Slavonic Dances, orchestrated from the original piano four hand versions.
The Phil are then performing Rimsy Korsakov's ochestration of Mussorgsy's Night on a Bare Mountain. The music describes St John watching a witches' Sabbath on the Bald Mountain near Kiev. The wild festivities are eventually interrupted when the church bell chimes in the morning, and the witches vanish.
Grieg's Peer Gynt Suite No.1 is another very popular work. The four movements are taken from the incidental music that Grieg wrote for Ibsen's drama of the same name. A story of the downfall and eventual redemption of a Norwegian peasant anti-hero. It ends with the fiery and instantly recognisable In the Hall of the Mountain King.
A calmer mood again with Sibelius's Valse Triste, leads us on to a blistering finale, Tchaikovsky's 1812 Overture, celebrating the triumph of the Russians over Napoleon. Complete with cannons and church bells, what better way to end a concert that celebrates our return to live music?
A programme of familiar favourites for audience members young and old to enjoy. Listen to some samples by clicking the buttons above.