Listen to excerpts from other performances of the pieces in this concert:








Concert: French Night
Saturday 7th December 2019, 7.30pm
St Andrew's Hall
French Night (Berlioz 150th Anniversary tribute)
SAINT-SAËNS: Symphonic Poem, Phaeton
LALO: Symphonie Espagnole
BERLIOZ: Symphonie Fantastique

with Zoë Beyers, violin (Saint-Saëns)
and Norwich Philharmonic Orchestra, conducted by Matthew Andrews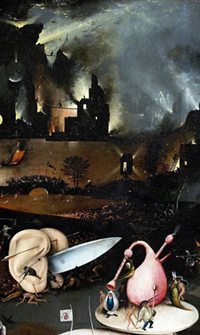 To celebrate the 150th anniversary of the death of composer Hector Berlioz, the Phil has chosen a completely French programme for this evening.
The opening work is Camille Saint-Saëns' wonderful symphonic poem Phaéton. Based on the ancient Greek myth, the music reflects a story about the follies of pride. To prove his father is the sun god Helios, Phaéton asks if he can drive the sun chariot for a day. But the chariot with its unruly horses proves too much for him, and to prevent disaster, Zeus intervenes and strikes Phaéton down to earth with a deadly lightning bolt. Listen out for the horses in the galloping strings, the simple five note theme which so skillfully portrays Phaéton's eagerness and bravado, and the lightning bolt chord which precedes the sad lament at the end.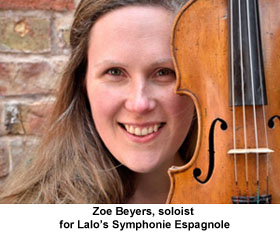 We welcome back the stunningly talented Zoë Beyers for the second work of the evening, Lalo's Symphone Espagnole. Originally written for Spanish virtuoso Pablo de Sarasate who had performed Lalo's first Violin Concerto the previous year, the piece was designed to showcase Sarasate's jaw-dropping technique and fabled rich Stradivarius tone. The Iberian-tinged thematic material pays tribute to the virtuoso's background, and portrays some wonderful coloured pictures of Spain.
Inspired by his infatuation with Irish actress Harriet Smithson, Symphonie Fantastique was completed by Berlioz at the prodigious young age of 26. He said "For some time I have had a descriptive symphony … in my brain. When I have released it, I mean to stagger the musical world." And stagger the world he did. Written in 1830, only 6 years after Beethoven's 9th Symphony, the work was truly revolutionary for its time. It takes us through scenes in the life of a young artist "who poisons himself with opium in an attack of despairing passion". We see him at a Ball, in the Country, and on the fantastical March to the Scaffold in which the artist "dreams that he has killed his beloved, that he is condemned, led to the scaffold and is witnessing his own execution". The melody, or idée fixe Berlioz ascribes to his beloved, cries weakly from the clarinet before being silenced by the startling crash of the guillotine at the end of the movement, and we are transported to the macabre finale 'Dream of a Witches Sabbath'. Always a favourite with concert-going audiences, you can listen to an excerpt from the link above.