Concert: Kabalevsky, Rachmaninov, Martinů
Saturday 3rd February 2018, 7.30pm
St Andrew's Hall
KABALEVSKY Colas Breugnon
RACHMANINOV Piano Concerto No 3 in D minor
MARTINŮ Symphony No 3

with Alexander Ullman, piano (Rachmaninov)
and Norwich Philharmonic Orchestra, conducted by Matthew Andrews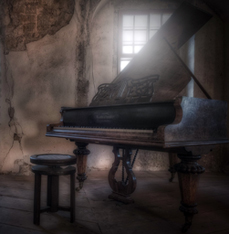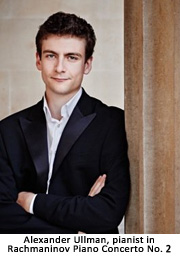 Our February concert starts with Kabalevsky's delightful Overture to his opera Colas Breugnon. The comic opera tells of the carpenter and practical joker Colas Breugnon, his past and present loves, and with a nod to his communist sponsors, his conflicts with an evil aristocrat. While the full opera is not often performed now, the Overture has stood the test of time and makes regular appearences in concert programmes.
Rachmaninovís majestic Third Piano Concerto is one of the most technically challenging in the repertoire. An early review said "The work grows in impressiveness upon acquaintance and will doubtless take rank among the most interesting piano concertos of recent years, although its great length and extreme difficulties bar it from performance by any but pianists of exceptional technical powers." If you are not familiar with the work from concert halls or recordings, you may have already heard it in the film Shine. You can listen to a recording of Rachmaninov playing his own concerto linked above.
2011 Liszt Competition winner Alexander Ullman is the latest in a long line of virtuosos to master the concertoís thrilling cadenzas. A graduate of the Curtis Institute, and the Royal College music, Alexander is already a seasoned performer having given concerts around the world.
We end our evening with Martinůís dramatic Third Symphony. Czech-born Martinů. having fled to the United States in 1941 to escape the German invasion of his home country, started work on the piece in 1944. The tone of much of the work is agitated, even grief-stricken in the first movement, and the symphony is sometimes referred to as the "Tragic" Symphony. The central slow movement is intense and ends in a beautiful calm, only to be broken by the brutal Allegro finale. The mood is now agressive and fighting, until at the very end there is a luminous, positive conclusion. Martinů had received news of the Allied invasion of France on 6 June 1944 just as he was completing the work, the final chords seem to reflect that glimpse of hope.