Concert: Kabalevsky, Rachmaninov, Martinů
Saturday 3rd February 2018, 7.30pm
St Andrew's Hall
KABALEVSKY Colas Breugnon
RACHMANINOV Piano Concerto No 2 in C minor
SUK Meditace for Strings (on the old Czech Chorale St Wenceslas)
MARTINŮ Symphony No 3

with Alexander Ullman, piano (Rachmaninov)
and Norwich Philharmonic Orchestra, conducted by Matthew Andrews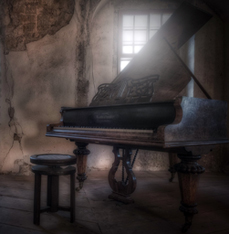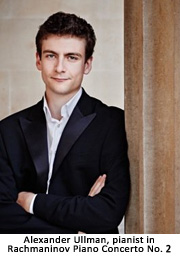 Our February concert starts with Kabalevsky's delightful Overture to his opera Colas Breugnon. The comic opera tells of the carpenter and practical joker Colas Breugnon, his past and present loves, and with a nod to his communist sponsors, his conflicts with an evil aristocrat. While the full opera is not often performed now, the Overture has stood the test of time and makes regular appearences in concert programmes.
If the link to Rachmaninov's 2nd Piano Concerto above sounds familiar, you may remember it from the iconic 1945 film Brief Encounter, a reflection of the enduring popularity of the piece. Of Rachmaninov's three piano concertos, it is the most popular with audiences and critics alike. But the success did not come easily to the composer. His 1st Symphony had not been well received three years earlier; César Cui likening it to the product of "a conservatory in Hell". Rachmaninov retreated to the country, crushed, and did not compose for some time.
Finally he secured the services of a physician, Nikolai Dahl, to help him overcome his depression. He described the process later: "I heard the same hypnotic formula repeated day after day, while I lay half asleep in Dahl's study. "You will begin to write your concerto … You will work with great ease … The concerto will be of excellent quality …" It was always the same, without interruption. Although it may sound incredible, this cure really helped me. At the beginning of the summer I began to compose. The material began to grow, and new musical ideas began to stir within me". The Concerto is dedicated to Dr Dahl.
2017 Liszt Competition winner Alexander Ullman is the latest in a long line of virtuosos to master this wonderful piece. A graduate of the Curtis Institute, and the Royal College music, Alexander is already a seasoned performer having given concerts around the world.
We end our evening with Martinů's dramatic Third Symphony. Czech-born Martinů, having fled to the United States in 1941 to escape the German invasion of his home country, started work on the piece in 1944. The tone of much of the work is agitated, even grief-stricken in the first movement, and the symphony is sometimes referred to as the "Tragic" Symphony. The central slow movement is intense and ends in a beautiful calm, only to be broken by the brutal Allegro finale. The mood is now agressive and fighting, until at the very end there is a luminous, positive conclusion. Martinů had received news of the Allied invasion of France on 6 June 1944 just as he was completing the work, the final chords seem to reflect that glimpse of hope.