Listen to excerpts from another performance of the piece in this concert:






Concert: Beethoven
It is with great regret that due to concerns about the ongoing Covid-19 virus pandemic, this concert has now been CANCELLED.
Tickets already purchased will be fully refunded.
If you paid for your tickets online, you will be refunded automatically within the next 7 working days.
Refunds for tickets purchased from St George's Music shop, and part refunds for season tickets, will be given by the shop on request before 30th April. Contact details for the shop are here.
Saturday 21st March 2020, 7.30pm
St Andrew's Hall

BEETHOVEN: Missa Solemnis

Nina Bennet soprano, Jessica Gillingwater mezzo soprano, Daniel Bartlette tenor, Robert Rice Bass
Norwich Philharmonic Orchestra and Chorus, conducted by David Dunnett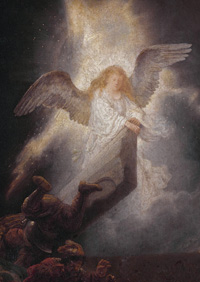 Although Beethoven was raised as a Roman Catholic, he was not a regular church-goer. Nonetheless, he was familiar with the liturgy, and was well aware that sacred compositions represented one of the higher goals to which a composer could aspire. He admired Handel's Messiah, Haydn's Masses and oratorios and, above all, Mozart's Requiem. Yet he had only attempted sacred composition twice himself, and neither the oratorio Christ on the Mount of Olives (1803), nor the Mass in C (1807) were particularly successful.
It was only later that he was inspired to write a third liturgical piece in honour of his patron Archduke Rudolph for Rudolph's installation as archbishop of Olmutz in March 1820. Beethoven judged the Missa Solemnis as his greatest work, and said he "gave it all that he was humanly and artistically capable of, with utter devotion and fervour." However his zeal to complete such a great masterpiece meant that he missed the archduke's installation ceremony by nearly three years! Missa Solemnis was not fully complete until 1823, and was not performed until 1824 in St. Petersburg.
The Missa Solemnis is a monumental work. Michel Tilson Thomas said recently "As in a cathedral, different chapels are dedicated to different spiritual territories. Some are majestic, some intimate, some symphonic or even operatic." Such diversity gives a wonderfully rewarding experience to both performers and audiences alike.