Listen to excerpts from another performance of the piece in this concert:








The Phil's Family Concert
Saturday 2nd April 2022, 6pm (note start time)
Norfolk Showground Indoor Arena (note venue)
Tickets: adults £11, children and young people under 26 £5
JOHN WILLIAMS: Title music from Harry Potter
PROKOFIEV: Peter and the Wolf
TCHAIKOVSKY: Waltz of the Flowers from The Nutcracker
STOOKEY/SNICKET: The Composer is Dead
STRAVINSKY: Finale from The Firebird
Peter Wilson, narrator and compere
Norwich Philharmonic Orchestra
conducted by Matthew Andrews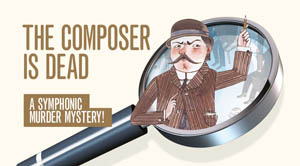 Due to the continuing pandemic, the Orchestra is unable to join the Chorus at their concert on 19th March for space reasons. So the Orchestra have taken the opportunity to do an extra family concert on their own. It's an entertaining programme designed for a family audience, but which will appeal to adults and younger listeners alike.
Prokofiev's much loved tale of Peter and the Wolf is paired with a witty musical who-dunnit, The Composer is Dead, Nathaniel Stookey's setting of the children's book by Lemony Snicket.' Celebrated theatre impresario, Peter Wilson, brings the stories vividly to life and introduces the concert, which also includes the Finale from Stravinsky's Firebird, the Waltz of the Flowers from Tchaikovsky's The Nutcracker (both works from the BBC's 10 Pieces music project for schools) and film music from Harry Potter by John Williams.