Norwich Phil on the crest of a wave with La Mer…and Hansells
Riding the crest of a wave, the Norwich Philharmonic Society will launch another ambitious five-concert season with its first-ever performance of Debussy's evocative sea-moods composition, La Mer, backed once again by Norfolk law firm Hansells.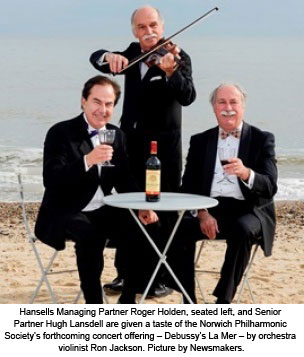 Roger Holden, Managing Partner at Hansells Solicitors and Financial Advisers said it was a delight to announce Hansells' sponsorship of the highly-acclaimed choir and orchestra for a third year.
"Norfolk and Norwich has an unrivalled wealth of vocal and musical talent. When that talent is taken and harnessed by the Norwich Philharmonic's highly-skilled management team, the results are incredibly moving," he said.
"For the past two years of sponsorship, the partners and staff at Hansells have been able to appreciate the extraordinary amount of hard work and dedication which singers, musicians and directors put into producing such a diverse and challenging programme. The society fully deserves the fantastic support that its members get from highly-appreciative audiences."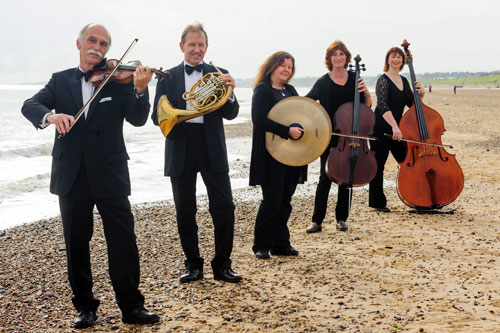 During its 174th season, the Norwich Philharmonic will be marking two notable composer anniversaries, Richard Strauss' 150th – and a belated centenary celebration for unsung British composer, George Lloyd. The milestone was overshadowed last year by his more widely-acclaimed contemporary, Benjamin Britten.
The opening concert on November 8 features Debussy's La Mer and one of George Lloyd's final works, his Symphonic Mass.
Norwich Philharmonic chairman, Caroline Dixey, was thrilled to have Hansells' backing for another season. "Hansells partners and guests show such an obvious interest in our concerts; their sponsorship underpins our concert season," she said. "Hansells' appreciation of the society's musical pedigree is a massive encouragement to everyone at the Norwich Phil. Hansells' sponsorship reduces financial risk….and helps keep ticket prices down. It means high-class performances are within the reach of everyone, whatever their financial circumstances", said Mrs Dixey. "The Society has been boosted by an unprecedented level of interest from people who would like to participate in our performances.The choir is now 120-strong, backed by an orchestra composed of 80 musicians."
"Last season was fantastically successful. Three concerts were a compete sell-out. We have so many people wanting to join us that we have had to stop auditions for sopranos and altos for the time being." said Mrs Dixey. "I can't remember that ever happening before although, as with many choirs, we would welcome a few more tenors and basses. It's wonderful to see the Norwich Philharmonic reputation continuing to grow and grow."

Founded in 1827, Hansells head office is in Norwich's historic Cathedral Close with another office in picturesque Tombland. Hansells also has county offices in Aylsham, Cromer, North Walsham, Reepham and Sheringham.
Find out more about Hansells at www.hansells.co.uk.