Listen to excerpts from other performances of the pieces in this concert:





Concert: The Phil's Children's Concert
Saturday 10th February 2024, 7.30pm
The King's Centre, King Street, Norwich
Programme to include:
THE KNIGHT WHO TOOK ALL DAY and other heroic deeds in music.
(Other pieces to be performed will be listed here soon. Watch this space!)

Bernard Hughes, Narrator
Norwich Philharmonic Orchestra,
conducted by Matthew Andrews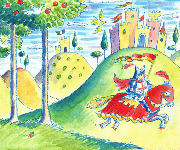 This fun and informal concert is specially designed for young children (aged 5-11, but older children will enjoy it too) and their families.
The Knight Who Took All Day is a setting of James Mayhew's children's book by composer, Bernard Hughes, who narrates the funny tale and introduces heroic music by Rossini, Tchaikovsky, Grieg, Prokofiev and Khachaturian, plus the theme to How To Train Your Dragon.
Each performance lasts around 50 mins including a short interval, when the children are invited to have a go on some of the instruments.
During the performance itself they can sit on the floor or on bean bags at the front for close-up views of the musicians.